Airman DANIEL Leverton was just 40 years old when he died suddenly, leaving behind two young daughters.
The hardworking RAAF mechanic had just returned from a humanitarian mission in Vanuatu, where he'd helped rebuild after the devastation of Cyclone Pam, when his life was cut tragically short.
While surfing with friends at Arrawarra on the mid-north coast of NSW, Mr Leverton suddenly collapsed after complaining of chest pains.
He died on April 4, 2015, leaving his family devastated by his premature loss.
Former partner Angela Watson, the mother of Mr Leverton's children, believed their future would be secured, having long ago been named as the executor and sole beneficiary in his will.
But what she didn't know was that the vast majority of her ex-partner's estate — the $451,500 worth of retirement savings and life insurance held in his superannuation account — would be divided up with little weight given to his written will.
A woman with whom the soldier had a comparatively new relationship lodged a claim with Military Super and was awarded $352,170 — leaving just $49,664 each for his daughters.
The family appealed to the Commonwealth Superannuation Corporation, which upheld the decision and found that the woman had been living in a domestic relationship with Mr Leverton for nine months before he died.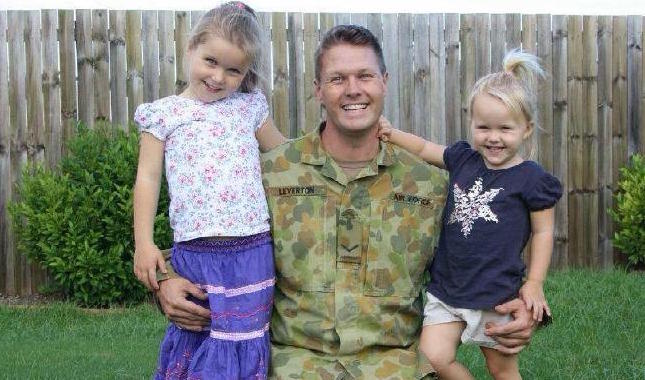 It relied on a statutory declaration made by Mr Leverton in August 2014, declaring that the woman was living with him as his partner, evidence of joint bills and banking activity and a RAAF minute approving his application naming the woman as his "interdependent partner" in November 2014.
But the airman's family insists that he never intended for the woman to inherit his estate, saying he only made her his defacto to avoid being posted interstate — a fate that would have taken him away from his beloved daughters.
"In mid-2014, the RAAF advised Daniel that he was going to be posted to Katherine in the Northern Territory," dad Geoff Leverton said.
"It put a terrible burden on Daniel because he didn't want to be away from his girls, and he asked if there was a way around it.
"He had a casual relationship with a young lady at the time … So they advised him that even though it was well below the de facto relationship civil laws of Queensland which is two years, that if he signed a stat dec, they could be recognised as de facto — and then Daniel wouldn't have to be transferred."
But the move appears to have backfired, with the couple's de facto status barring Mr Leverton's daughters from a bigger slice of his estate, an outcome the family believes defies his wishes.
His father dubbed it a "travesty of justice" that "defies common sense".
"Why do we make wills? To look after the people we love, after we've gone," he said.
Ms Watson said her ex-partner would have been horrified to know that his daughters were missing out on hundreds of thousands of dollars that could have been used to pay for their education and upbringing.
"He'd be so angry to know that this was happening, which makes it even worse — but there's nothing we can do about it," she said.
"When we separated I was the executor of his estate and sole beneficiary of his will, because he knows anything will go to the kids."
She said she'd remained on amicable terms with Mr Leverton, who saw his daughters regularly and that they had continued to spend Christmas together as a family.
He had never changed the will he made in 2008, despite being invited to do so by the RAAF before each overseas mission he took, she said.
Ms Watson said she wanted to share her story to help prevent other families from ending up in the same situation.
While her ex partner had a valid will, he had never thought to nominate a beneficiary on his superannuation account — a move that may have ensured a different outcome.
"We can't gain anything now, we can't get the money back, but I just want people to be aware," she said.
"People think that a will covers all that stuff, but it won't."
Article written by Dana McCauley and published on news.com.au.
To get your free no-obligation consultation and begin contesting a will, fill in the form below.
This publication is for information only and is not legal advice. You should obtain advice that is specific to your circumstances and not rely on this publication as legal advice. If there are any issues you would like us to advise you on arising from this publication, please let us know.
 Liability limited by a scheme approved under professional standards legislation (personal Injury Work exempted).