So what is the Procedure when it comes to Contesting a Will in Qld?
Each legal matter is unique, turning on its own facts and circumstances – but no matter those issues, family provision claims tend to follow a relatively standard process imposed by the courts designed to efficiently manage the estate litigation process.  The following summary sets out some of the relevant timeframes and procedures any family provision applicant ought to be mindful of for Queensland matters.
Step 1 – Understanding Your Options when contesting a will
This might sound a bit cheeky, but it would go without saying that the first step in Contesting a Will in QLD, would be to contact us for a free, no obligation consultation to discuss your eligibility! We can save a lot of heartache early by explaining  your options in the first session. Plus should you decide to proceed we also have a No Win No Fee option as well. 
So lets get stuck into it.
The main reason is to investigate your options and the merits of your family provision claim.  In the initial Free consult, we will investigate the opportunities for you to Contest the Will based on the merits of your potential claim. We will aim to offer preliminary advice on that matter, and let you know how we can assist. Our investigations will include:
The terms of the deceased's will;

The composition of the deceased's estate (both assets and liabilities); 

Your financial position; and

Your relationship with the deceased person.
Step 2 – Filing a Notice to Claim (the start and first step towards Contesting a Will)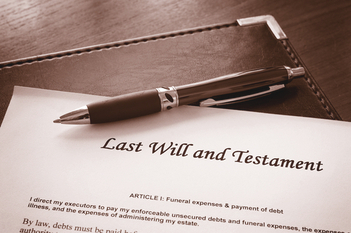 Notice of Intended Claim / Filing your Further Provision Application. Under Queensland succession law, any intended further provision applicant must give notice in writing to the executors of their intended claim within 6 months of the date of the deceased person's death. 
If an applicant fails to do so, then the executors may lawfully distribute the estate and defeat your potential claim.
Even where that notice has been given, it doesn't stall the process, and you are required to file court proceedings within 9 months of the date of death (and again, if you fail to do so, then the executors can lawfully distribute the estate and defeat your potential claim). 
Whilst applications can be made out-of-time (that is, more than 9 months after the date of death), in those circumstances the court must be convinced that there was a proper reason for the delay and that it is appropriate to allow it to proceed.
Step 3 – Preparing and Service of Affidavits
In conjunction with filing your claim to Contest a Will, your affidavit (your sworn statement of evidence) is filed outlining the relevant circumstances and detailing the basis why you say further provision ought to be made for you. 
Generally, at this time, a directions order is agreed between the parties outlining the timeframes by which each party is to file affidavit evidence, as well as notify any affected beneficiaries.
Step 4 – Settlement Conference and Mediation
Once each party has provided adequate evidence, the parties' legal representatives generally take part in a telephone settlement conference, to discuss potential resolution of the contested will.
If that is unsuccessful, our Wills lawyers Brisbane will generally proceed to a mediation (where most further provision claims are resolved), with each of the parties, their legal representatives and an independent mediator (generally an experienced barrister) attempt to resolve the matter, including the legal costs of the parties.
Step 5 – When Contesting a Will doesn't end at Mediation, we Prepare for Trial.
Preparation for Trial and Trial – If the matter to contest the will remains unresolved after mediation, then the matter is generally set down for trial and hearing before a judge. 
This step entails significant preparation work, assembling any further supporting evidence for court, and then taking part in the court hearing, and awaiting delivery of judgment by the court, which will generally include orders concerning payment of the parties' legal costs.
This publication is for information only and is not legal advice. You should obtain advice that is specific to your circumstances and not rely on this publication as legal advice. If there are any issues you would like us to advise you on arising from this publication, please let us know.
 Liability limited by a scheme approved under professional standards legislation (personal Injury Work exempted).
To find out more information on what happens when you decide to contest a will in old, please contact our friendly team at O'Connor Rudy and Garret Solicitors. We can help to Defend or Act on Contention of a Will.